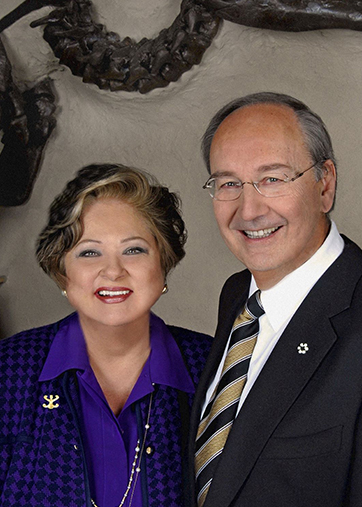 James (Jim) Temerty and Louise Arcand Temerty have devoted their lives to family, business and services to others.
Jim was born in Ukraine during World War II and eventually settled with his family in Montreal, where he completed his education. Following a 15-year career at IBM, Jim and Louise owned and operated a ComputerLand franchise. By the time the Temertys sold their business to Bell, they had expanded the franchise to include 30 stores.
Today, Jim Temerty is chairman and the largest shareholder of Northland Power Inc., a public corporation with an enterprise value of $12 billion. When Temerty founded Northland in 1987, the private company was among Canada's first independent power producers.
Currently a member of many boards, Jim was chair of the Royal Ontario Museum (ROM) Board of Governors during the Renaissance ROM campaign that raised $400 million to expand and modernize Canada's premier museum. A member of the Order of Canada, he was named Canada's Ernst & Young's Entrepreneur of the Year in 2010 and, like his wife, is a recipient of the Queen Elizabeth II Diamond Jubilee Medal.
Louise holds a business administration diploma from Montreal's College d'Outremont. She was the executive assistant to the president of l'Hôpital Ste Jeanne d'Arc before starting her family, becoming an active volunteer, working at ComputerLand and Northland Power and pursuing a range of business and philanthropic endeavours.
A director of the Leacock Foundation and a member of the Canadian Opera Company's Volunteer Committee, Louise has dedicated time and energy to several charitable organizations. For instance, she chaired the ROM's Stewardship Task Force and sat on the Donor Relations Committee of North York General Hospital. Now, she is a cabinet member of the hospital's $150 million Embracing Health campaign.
Jim and Louise are also co-chairs of the Temerty Foundation, which has made significant philanthropic contributions toward health care, education and culture. Along with supporting a number of endowments and scholarships at the ROM, the Royal Conservatory of Music and the Ukrainian Catholic University in Lviv, Ukraine, the Foundation has established the Louise Temerty Breast Cancer Centre at Sunnybrook Hospital, the James and Louise Temerty Galleries of the Age of the Dinosaurs at the ROM, the Temerty-Chang International Centre for Telesimulation and Innovation in Medical Education at the University Health Network, and the Temerty Centre for Therapeutic Brain Intervention at the Centre for Addiction and Mental Health (CAMH).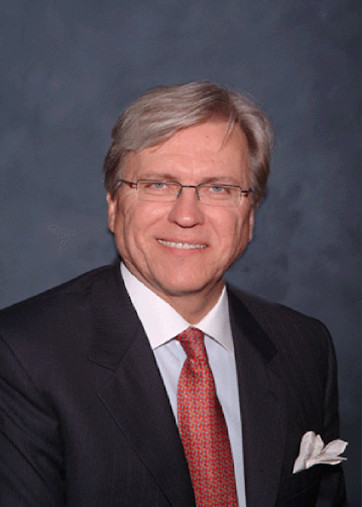 Ian O. Ihnatowycz, B.Sc., M.B.A., C.F.A., C.Dir.
Founder, President and CEO
First Generation Capital Inc.
Ian Ihnatowycz is Founder, President and CEO of First Generation Capital Inc., a private investment holding company which focusses on late stage venture capital, private equity and small to midcap publicly traded securities. Formerly, Mr. Ihnatowycz was Founder, President and CEO of Acuity Investment Management Inc. and Acuity Funds Ltd. Under his leadership, Acuity was the first Canadian advisor to the United Nations on the integration of environmental, social and governance factors within investment management and grew to combined assets of over $7.5B. The company received many awards for superior investment performance and was sold in 2011.
Currently, Mr. Ihnatowycz is Chairman of Acerus Pharma and Myca Health, and serves on the boards of Kardium Inc., WellBox Inc., Real Imaging Ltd., Fulcrum Management Solutions Ltd., Ikomed Technologies, the Royal Conservatory of Music and the Atlantic Council. Mr Ihnatowycz is closely associated with the Ivey Business School, serving on their Advisory board as well as that of the Ihnatowycz Institute for Leadership. He is a member of the Investment Advisory Committee for Imperial Capital Acquisition Funds and Advisory Boards of Ukrainian World Congress and Ukrainian Canadian Congress.
Mr. Ihnatowycz produced Bitter Harvest (2016), a feature film based on the famine/genocide in Ukraine orchestrated by Stalin. The film was distributed globally, and is currently part of the school curriculum in Ukraine.
Mr. Ihnatowycz was awarded the St.Volodymyr Medal by the Ukrainian World Congress (2018), was named a Chevalier of the Order of Merit, 3rd Class, by Ukrainian President Petro Poroshenko in 2017, has received an Honorary Doctor of Laws from Western University (2012), an Honorary Doctor of Philosophy from the Ukrainian Free University in Munich (2009) and is a Fellow of the Royal Conservatory of Music (2007).
Together with his wife, Dr. Marta Witer, Mr. Ihnatowycz established the Ihnatowycz Family Foundation in 2011. Both Mr. Ihnatowycz and the Ihnatowycz Family Foundation have made significant donations to numerous charitable causes in the field of education, health care and the arts.
In the field of education, he played an instrumental role in the establishment of the Ian O. Ihnatowycz Institute for Leadership at the Ivey Business School at Western University, which conducts research on leadership and character in business. He funded a similar program at the Lviv Business School at the Ukrainian Catholic University in Ukraine, which focuses on the development of business leaders and participates in the exchange of research with the Ivey Business School.
In the health care sphere the Foundation has supported exchange programs for the training of surgeons in Ukraine through the Hospital for Sick Children and Sunnybrook Health Sciences Centre. Through St. Joseph's Health Centre, the Foundation supported the establishment of an integrated health care model for youth with mental health illness, with a focus on early intervention and support. Most recently, the Foundation has supported the establishment of the Waterloo Eye Institute, with a mission to build a new integrated approach to research, education and patient care in Canada.
In the field of arts and culture, Mr. Ihnatowycz provided funding for the renovation of the historic Royal Conservatory building (renamed Ihnatowycz Hall) and founded the Ihnatowycz Piano Program, as well providing numerous scholarships for gifted music students. Through the Shevchenko Foundation, the REACH Mentorship/Residency program was established by the Ihnatowycz Foundation to aid successful candidates in furthering their career in the Arts.
Mr. Ihnatowycz has given his time and expertise to service in his community as well. He was co-chair of the Home with a Heart Fundraising Campaign for the Ukrainian Canadian Care Centre (2007), raising $15M to provide care for seniors with cognitive disorders.
He was President of the Humber Valley Village Residents Association (2013), leading a campaign to preserve the character of the neighbourhood, and worked together with City Councillors and Urban Planners to enact changes to the City of Toronto Official Plan.
Mr. Ihnatowycz and his spouse, Dr. Marta Witer, have three children and four grandchildren. Together with his family he continues to be an active philanthropic and volunteer member of his community locally, nationally and abroad.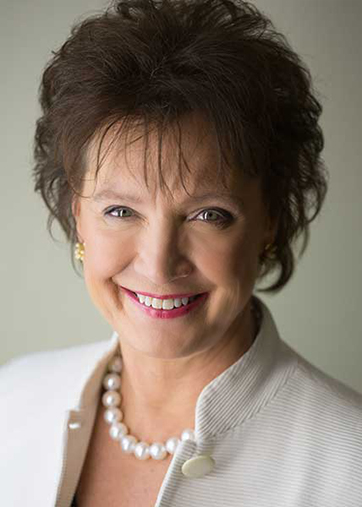 Diane Francis is a well-known journalist, author, broadcaster, and Editor-at Large at The National Post. She writes extensively for publications around the world and is a regular columnist with PostMedia, Atlantic Council in DC, Singularity University Hub, journal The American Interest in DC, and the Kyiv Post, among other publications. She is a sought-after speaker at conferences on technology, geopolitics, US-Canada, business, energy, Russia-Ukraine, and white collar crime.
She has travelled all over the world covering major world events, and made dozens of trips to Ukraine in recent years.
She is also on the Faculty at Singularity University in Mountain View California, a Senior Fellow at the Atlantic Council in Washington DC, a Distinguished Professor at Ryerson University, and also on the boards of the Hudson Institute's Kleptocracy Initiative and the Canada-US Law Institute. She is also a software developer.
Her popular twitter feed on tech and corruption now has more than 250,000 followers around the world.
She is an entrepreneur and serves as a director, investor, and advisor to several start-up companies and government organizations.
She is also an activist and has organized major conferences universities on bio-tech and business topics; with the Calgary Chamber of Commerce in 2016 and 2017 on future technologies; and was chief fundraiser, raising more than $1 million in corporate sponsorships for Singularity University's Canada Summit in all 2017.
She is a member of Abundance360, created by Silicon Valley influencer and space pioneer Peter Diamandis, who leads this exclusive group of 250 entrepreneurs.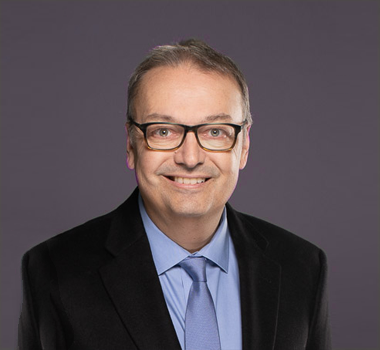 Mervon Mehta has been the Executive Director of Performing Arts for The Royal Conservatory since April 2009. He oversaw the launch of Koerner Hall and is responsible for programming Koerner Hall's successful series of classical, jazz, world music, and pop concerts, as well as overseeing all of the other performances and events throughout The Conservatory's home at the TELUS Centre for Performance and Learning.
He has served the arts community in various capacities, including acting as co-chair of the International Society of Performing Arts Congress in Toronto; as a juror for the Juno Awards and the OSM Concours; and as a grant adjudicator for the City of Toronto, the Toronto Arts Council, and the Ontario Arts Council. He also serves on the board of Intercultural Journeys in Philadelphia and is a member of the Toronto Music Advisory Committee.

From the urgent, heart-pounding opening chords of her new single "Into Me," to the first time that famous voice surges like a king tide hitting a breakwater, the message is clear: Chantal Kreviazuk is back.
After seven years, three kids and collaborations with superstars like Drake, Pitbull, Christina Aguilera, Carrie Underwood, Kendrick Lamar and Pink, the JUNO Award-winning Canadian singer-songwriter's latest just-for-herself album, Hard Sail, is like a freshman's release of jaw-dropping hits all over again: it seems to come out of nowhere, but really took a lifetime to write.
And that's not surprising, considering what Kreviazuk's been up to since her last album, Plain Jane, was released in 2009.
She hunkered with husband and Our Lady Peace frontman, Raine Maida, in Los Angeles to have three boys, Rowan, Lucca and Salvador. She's acted in films. She's dedicated herself to War Child and several other charities. She started painting, appeared on Saturday Night Live and in 2014, was made, with Maida, a member of the Order of Canada.
In other words, when it came to penning Hard Sail just for herself, she had plenty of life to write about.
"I didn't choose to make this album. I just had things to say and so they came out…there wasn't any pressure to record, which for an artist is a great place to be coming from, because it's real," she says.
"Over the past several years, I've kept up with the practice of song writing while staying home and being near my kids. It's a very humbling experience to be a parent. You do the work, your little people know who they are, they have a foundation. They sort of dictated when it was going to be okay for me to be comfortable with making a record and promoting that. It's been a very organic process."
Called Hard Sail because "I have a wonderful marriage and family through hard work," she says, the album's first single, "Into Me," was written about accepting love, but it wasn't until she heard the produced track that she knew she had to make an album.
The video, directed by Michael Maxxis, "reflects the emotion and truth behind the star's powerful lyrics," noted Hello! Magazine.
"You get to a certain age and you just don't care what others think. You've been through the washing machine so many times, you know who loves you and what matters. I feel so much more creative freedom in that. You just start stating the facts," she says, "and the rest takes care of itself."
The album's second single, "All I Got," is a love letter, partly to Maida and partly to the idea of love.
"Later, someone asked me 'how can you say you love someone more than you love yourself?' But if you've ever loved outside of yourself, if you've ever had a child, you know you can love someone more than yourself."
More than that, the album is a moment in time: Kreviazuk has lived a lifetime in the past seven years and the collection of songs acknowledges that.
"What is awesome about this is it's an opportunity to take a picture of where I am," she says.
The same could also be true of Kreviazuk's entire catalogue, starting in 1998 when international audiences heard the Winnipeg native's now-iconic rendition of "Leaving On a Jet Plane," on the Armageddon soundtrack. From that moment, there was no doubting her star power as a multi-platinum selling artist with 15 hits in Canada, including "Surrounded" and "All I Can Do."
On Hard Sail, Kreviazuk is at her best as a songwriter and artist, arguably because of time.
"If you get out of bed and put one foot forward, you're changing. Every day, I'm someone new," she says.
That's who I was, this is who I am. When Raine and I go out on stage together, we say 'love, trust, protect'. That's what this album is about. It's a thank you to my husband and my family, it's a letter to the universe that expresses my fears and frustration and my surrender to the reality of time."